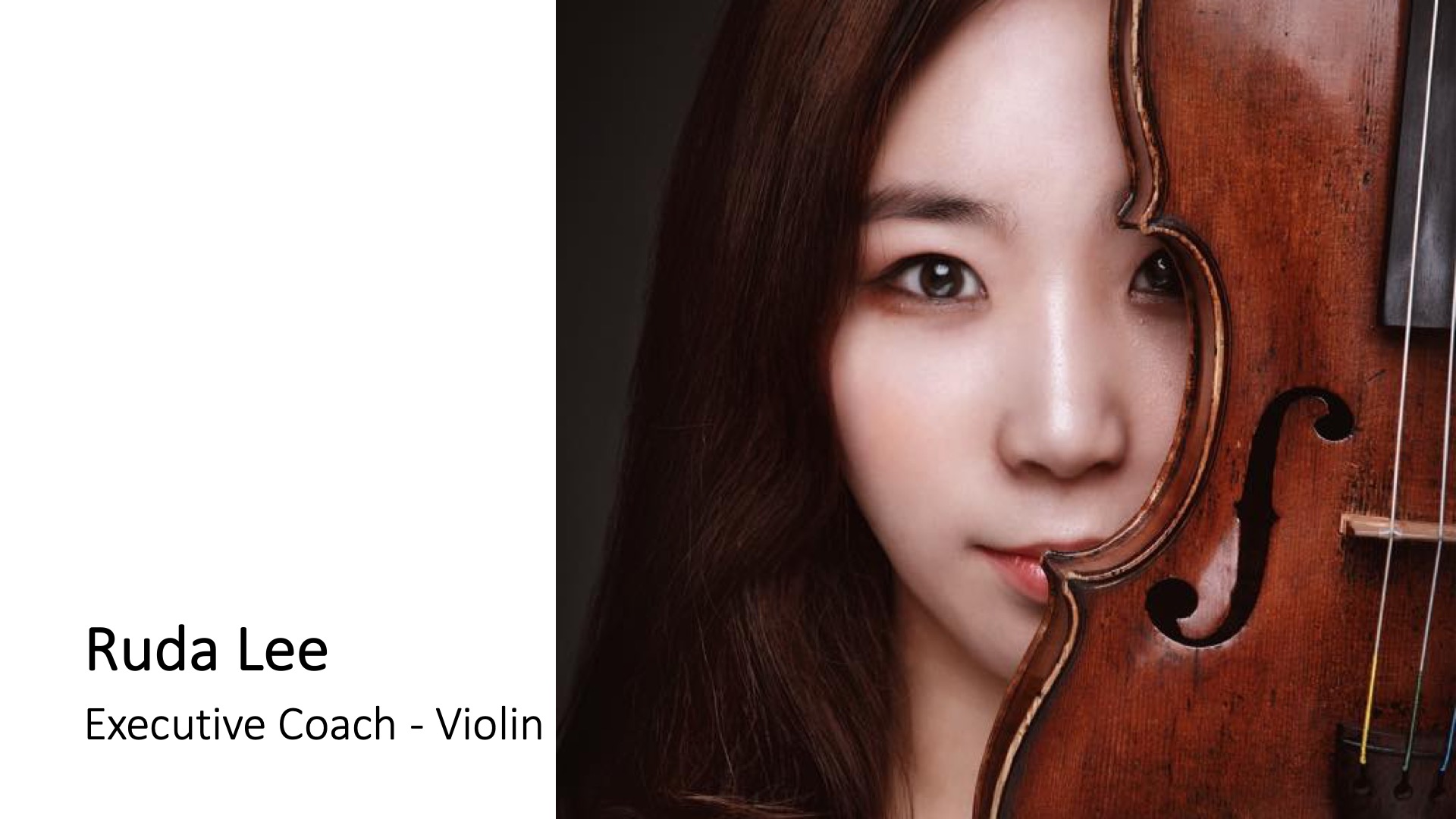 Concerto Debut at the age of 6 with the World Symphony Orchestra
Carnegie Hall Recital & Kennedy Center Gala 2015 with Yo Yo Ma and Pamela Frank in front of President Obama
Full Scholarship awarded at the Yale University & Co-concertmaster of Yale Philharmonia in New York with John Adams at the Lincoln Center's Avery Fisher Hall
Violinist Ruda Lee made her concerto debut at the age of 6 when she was the youngest winner of the World Symphony Orchestra Competition in Korea.  Thenceforth she has had great success in competitions and received top prize awards in Korean Chamber Ensemble Competition, Music Journal Competition, Strad Award, Music Education Newspaper Competition, Korea Mozart Competition, Young Soloist Competition amongst others.
Having won the First Prize at the American Protégé International Competition in 2014, Ruda made her winner recital debut at Weill Recital Hall, Carnegie Hall in New York.  Many respected violinists and pedagogues including Kyung-Wha Chung, Shmuel Ashkenasi, Igor Ozim, Syoko Aki, Cho-Liang Lin, Joseph Silverstein discovered her gifts and instinctual artistry.  Ruda has featured as a soloist with renowned-orchestras as well as performed chamber music at the prestigious concert venues, including the J.F.Kennedy Center Honors Gala 2015 in Washington D.C. where she performed with Yo Yo Ma and Pamela Frank in front of President Obama which was nationally televised in the United States.
Ruda was a co-concertmaster of Yale Philharmonia in New York tour with Maestro John Adams at the Lincoln Center's Avery Fisher Hall, while earning double degrees in MM and MMA at Yale University awarded a full scholarship.  During the school year, she was selected to collaborate with Yo Yo Ma at Yale, also honored to work with big name maestro such as Valery Gergiev, Krzysztof Penderecki, Peter Oundjian.  As a section leader of the orchestra, she has been trained by the legendary violinist Joseph Silverstein at Tanglewood, where she performed with the Boston Symphony Orchestra under the baton of Maestro Andris Nelsons.
As a devoted chamber musician, Ruda has been given the honor of performing at internationally acclaimed music festivals in America, Europe, Canada, Russia and Asia; Tanglewood, Kronberg, Norfolk, Banff, GreatMountain (PyeongChang), Tongyeong and Hong Kong International Chamber Music Festival.  She has collaborated with such celebrated artists as Emerson Quartet, Brentano Quartet, Artis Quartet, Orion Quartet, Tokyo String Quartet.  Recently she was invited to Taipei Music Festival and have worked with virtuosic violinists as Cho-Liang Lin, Frank Huang -concertmaster of New York Philharmonic, and David Chan -concertmaster of Metropolitan Opera and made successful concerts in Taipei, Taichung and Kaohsiung.
Ruda is committed to making creative stage and founded a new music ensemble of young instrumentalists, which won the Seoul President's Award with her composition.  She was also commissioned to play for numerous premiere including Marc Neikrug's String Quartet at Seiji Ozawa Hall, in Tanglewood 2015.  Ruda loves improvising, writing arrangement and composing her own cadenzas.  She also made the performance with her students at the Gala Concert Government House Hong Kong invited by Mrs. Carrie Lam, Chief Executive of Hong Kong in 2018.
While joining various masterclasses, Ruda has researched her own teaching method for each different style of students.  She has been nominated as a Teaching Artist at Yale School of Music and taught in campus also at the public schools in New Haven, Connecticut.  She was also a Teaching Assistant of East Asian Language and Literature Department at Yale University where she found her interest in links between music and language.  In addition to her teaching journey, Ruda is passionate for being part of Yale Chamber Music Society Hong Kong where she gives community services and charity concerts while pursuing her solo career, string quartet and ensemble performances regularly.